Scampi risotto recipe (4 persons)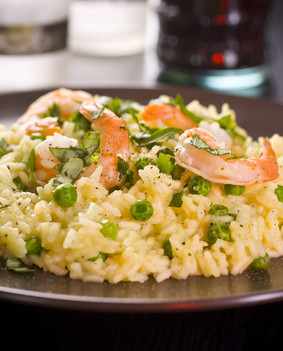 Scampi risotto recipe
Ingredients
250g risotto rice
1 1 / 4 liter chicken broth
3 tablespoons olive oil
1 small onion
80 g grated Parmesan Cheese
45 g butter
1 clove garlic (freshly grated)
350 g medium, peeled shrimps
2 tablespoons parsley (finely chopped)
some saffron
1 pinch of curry powder
2 tablespoons cognac or brandy
1 tomato
100g peas
Salt and pepper for seasoning
Preparation
Season the shrimp with salt and pepper.
Add 2 tablespoons of olive oil to a pan and heat.
Saute the grated garlic until brown.
Remove the garlic from the pan and add the shrimps.
Add the finely chopped parsley, garlic and curry powder to the pan and stir together.
Flambe the mixture with Cognac or brandy.
Chop the tomato and add it to the pan together with the peas.
Cook the mixture for about a minute.
In a separate pan, fry some chopped onions in olive oil.
Add the rice to the pan until covered with olive oil.
Continuously stir the rice for about 20 minutes.
Add the chicken broth to the rice mixture.
Just before the rice is cooked add the cheese, and shrimp mixture to the rissotto.
Serve while still hot.
Autor: Dirk Schneider