Saffron fish soup recipe (4 persons)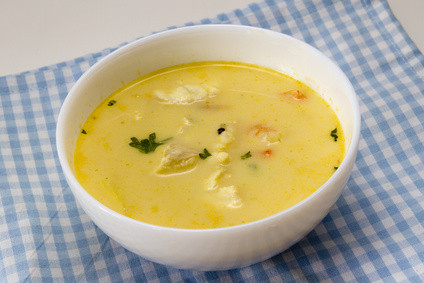 Saffron fish soup recipe
Ingredients
1 leek
2 shallots
2 carrots
2 tablespoons olive oil
1 teaspoon sugar
200 ml white wine
600 ml fish stock
2 ripe beefsteak tomatoes
450 gr fish fillet (2-3 grades)
4 shrimp
2 garlic cloves (thinly sliced)
1 pinch cayenne pepper
1 pinch of saffron
1 baguette
Preparation
Wash the vegetables throughly.
Cut the shallots, carrots and leeks into strips.
Saute the shallots and carrots in olive oil for around 10 minutes
Season with salt and pepper.
After 5 minutes, add the leeks.
Continously stir the ingredients.
After the 10 minutes are up, set the vegetables aside.
Add white wine to a separate pan and pour the fish stock into the mixture.
While bringing it to a boil, peel the tomatoes and remove the seeds.
Cut the tomato flesh into small pieces.
Cut the fish fillets into bite-sized pieces.
Remove the shell from the shrimp and remove the intestinal tract.
After 10 minutes, place the vegetables into the stock.
Add the thinly sliced garlic cloves and season with cayenne pepper and saffron.
Just before serving the dish, add the tomatoes to the soup and serve with a baguette.
Autor: Dirk Schneider