Saffron spaghetti recipe (4 persons)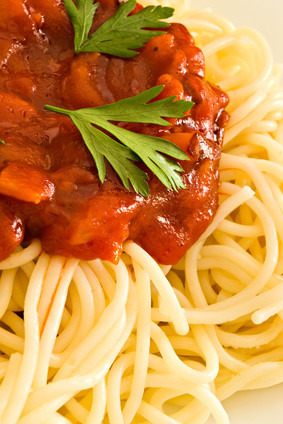 Saffron spaghetti recipe
Ingredients
400 grams of spaghetti
A little saffron
Olive oil
2 tablespoons butter
1 onion (finely chopped)
2 garlic cloves (finely chopped)
250 grams of mixed mushrooms
200 grams of dried and pickled tomatoes in olive oil
100 ml white wine
200 ml vegetable stock
4 tablespoons Soy Sauce
1 bunch of fresh parsley
Cayenne pepper, salt and pepper
Grated Parmesan cheese
Preparation
Cook the spaghetti in salted water as instructed on the packet.
Once Al Dente, drain the pasta and rinse in cold water.
Heat butter in a pan and add the finely chpped garlic and onions until golden brown.
Add the mushrooms and the drained tomatoes into the pan.
Pour the white wine and vegetable stock into the mixture.
Season with salt, pepper, cayenne pepper and saffron.
Let it simmer for 5-6 minutes.
Add a little soy sauce.
Mix the sauce and pasta and sprinkle with parmensan cheese.
Garnish with parsley and serve immediately.
Autor: Dirk Schneider