Paella Recipe (serves 4)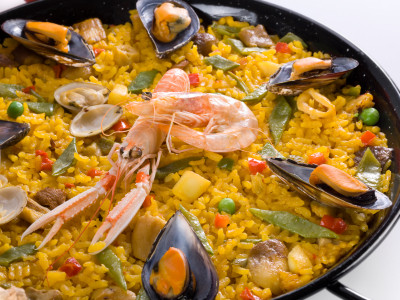 Spanish Paella
Ingredients
4 chicken thighs
200 grams rabbit meat
2 squid
6 mussels
100 grams clams
100 grams cuttlefish
8 pcs lobster
2 onions (chopped)
100 grams green peas
2 garlic cloves
1 small green pepper (chopped)
1 small red pepper (halfed and chopped into strips)
1 small can of tomato
300 grams paella rice
1 pinch of saffron
1 lemon
Vertically chopped shrimp
Salt and pepper for seasoning
Preparation
Season the chicken thighs with salt and pepper.
Sear the meat in a paella pan with oil until golden brown.
Remove the chicken from the pan and set aside.
Fry the squid, cuttlefish and lobster in the remaining oil until cooked.
Remove from pan and set aside.
Add the peppers and the onions to the pan.
Add the rabbit meat to the pan and stir for about 10 minutes.
While stirring, add the tomatoes and garlic to the pan.
Cook all ingredients together until the excess liquid in the pan has evaporated.
Add the paella (saffron) rice and green peas to the pan together with boiling water.
Season the dish with salt and pepper.
Stir and simmer the dish over low heat. Bring it to boil.
If a the dish seems to need a little more water, pour some while continuoly stirring the whole dish.
When half the liquid evaporates add the mussels and garnish it with pepper strips and lobster.
After this step, place the mussles on top of the rice and cover the pan with aluminum foil to finish cooking.
Serve in the pan garnished with the fried chicken, lobster, cuttlefish, clams and serve with lemon wedges.
Autor: Dirk Schneider