Saffron-orange turkey recipe (4 persons)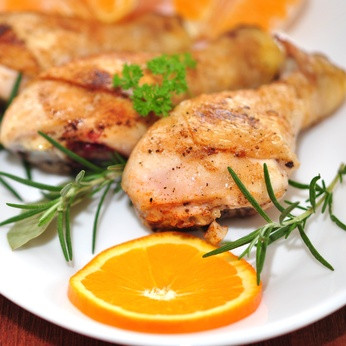 Saffron orange turkey recipe
Ingredients
1 turkey (about 5 kg)
40 g butter
2 organic oranges
A little saffron
Salt and pepper
500 ml vegetable stock
2 tablespoons apricot jam
3 tablespoons Marsala
2 tablespoons gravy
pinch of cayenne pepper
Preparation
Melt butter in a pan and stir in saffron.
Grate a thin layer of orange peel.
Cut the orange into this slices.
Wash the turkey and pat dry, then season inside and out with salt and pepper.
Rub the inside of the turkey well with the grated orange peel.
Dip the thin orange slices into butter mixed with saffron and insert it under the skin.
Place the remaining oranges inside the turkey.
Then cover the opening with the breast skin by carefully pulling it.
Tie the legs and wings of the turkey and place the bird onto a well-greased pan.
Brush the turkey with the remaining butter and cover with an aluminum foil.
Cook the turkey on the botton rack of the oven at 180° C for 3 - 3.5 hours.
Baste the turkey with its own broth.
Remove the aluminum foil after 1.5 - 2 hours.
After cooking the turkey in the oven, place it onto a pan and add the apricot jam and marsala to the turkey.
Season with salt and pepper and serve.
Autor: Dirk Schneider